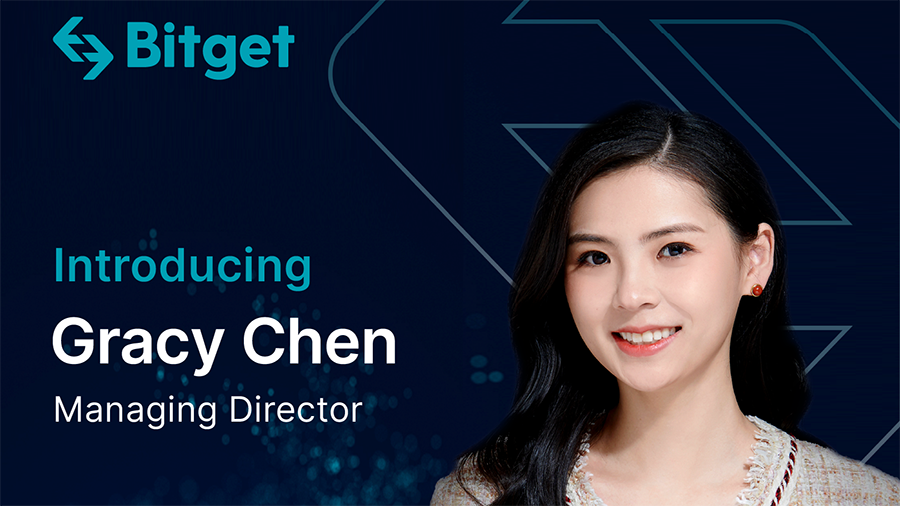 Bitget, one of the largest cryptocurrency derivatives exchanges, has announced the appointment of Gracie Chen as managing director. She will lead Bitget's growth strategy as part of the platform's international growth plan.
This year, cryptocurrency derivatives trading volume on Bitget reached $8.69bn, up more than 300% year-over-year. As the platform's team notes, due to Bitget's exponential growth, the new managing director of the exchange, Gracie Chen, will focus on managing the development of the platform in new global markets.
"We are delighted to have an experienced professional like Gracie join us and look forward to using her expertise in this area to further strengthen our growth strategies in international markets," commented Bitget CEO Sandra Lu on the appointment.
According to a statement, Gracie Chen has been inspired by the rapid growth of the platform, which was founded in 2018 and is now one of the top 10 largest derivatives exchanges. Chen will oversee Bitget's global growth and expansion, strategy and corporate development. She will also increase Bitget's brand awareness and presence in the wider crypto ecosystem, as well as help the platform continue to thrive.
Gracie Chen previously held executive positions at XRSPACE, a virtual reality technology company headquartered in Taipei. At the invitation of Peter Chou, Chairman of XRSPACE, Gracie oversaw and managed the marketing and business development functions as well as government and public relations in the region.
Formerly the host and producer of Phoenix TV's technology and finance channel, one of the largest media conglomerates in China, Chen has covered financial news and events extensively, including the World Economic Forum. During her tenure at Phoenix TV, she interviewed tech leaders, including Kevin Kelly, founding editor of Wired.
"It's an exciting time to start working in the cryptocurrency industry and on a platform that ranks among the leaders in derivatives trading. I have always been interested in investing in cryptocurrency and industry-related companies. As an early investor in BitKeep, a subsidiary of Bitget and Asia's leading decentralised wallet, I have witnessed the brand's development and growth over the years. I'm thrilled to be joining an organisation full of motivated and smart people. Bitget will be a 'bridge' beyond Web2 and Web3, connecting CeFi and DeFi, leading to a vast ecosystem in the cryptocurrency world," said Gracie Chen.
Bitget is one of the largest cryptocurrency transaction copy exchanges. Bitget is now ranked 5th in the ranking of cryptocurrency derivatives exchanges by CoinGecko.