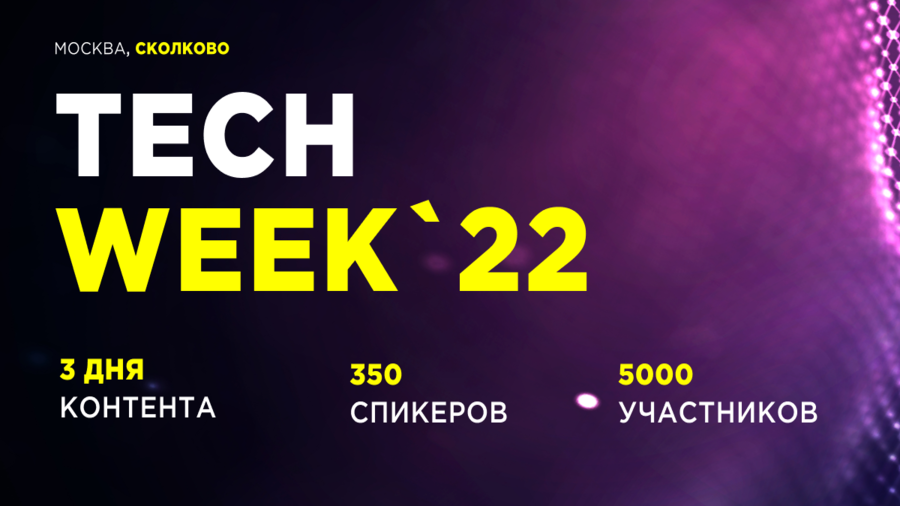 At the conference on innovative technologies for business in Russia TECH WEEK-2022 will discuss new challenges for business. 250 speakers will share the cases for work in the conditions of import substitution.
Three-day applied conference and exhibition about innovative technologies for business TECH WEEK-2022 will take place in Technopark "Skolkovo" from May 31 to June 2. The speakers include: Andrey Kuzyaev, president of Er-Telecom Holding; Denis Kutergin, founder of YouDo; Vyacheslav Bocharov, co-founder of Samokat service, as well as speakers from Yandex Cloud, VK, Roistat, Netology, Cognitive Technologies and others.
"We rearranged the conference programme to meet the main demand of the business audience – how to adapt to the changes in the era of turbulence and find new opportunities. We have invited experts from leading companies who have to substitute domestic counterparts for products in different market segments, and we have worked through topics to solve practical business problems. Furthermore, TECH WEEK remains not only an educational event, but also a platform for professional communication and networking. Special projects have been created for this purpose: Speed Networking, Mentor's Lounge, Career Advice, AfterParty", – said Oleg Petryashev, CEO of Technocrat, the event organiser.
The revamped seventh TECH WEEK conference will include 12 thematic sections. Programme:
A 2-day multi-format conference;
A special format of events for entrepreneurs: Mentor Lounge, Career Advice, Education day, and others;
Networking programmes for business networking: Speed networking, Random coffee, AfterParty;
technology exhibition. More than 100 companies will present business solutions at one venue;
Online platform with video recordings of lectures and presentations.
Learn more about the event on the website.